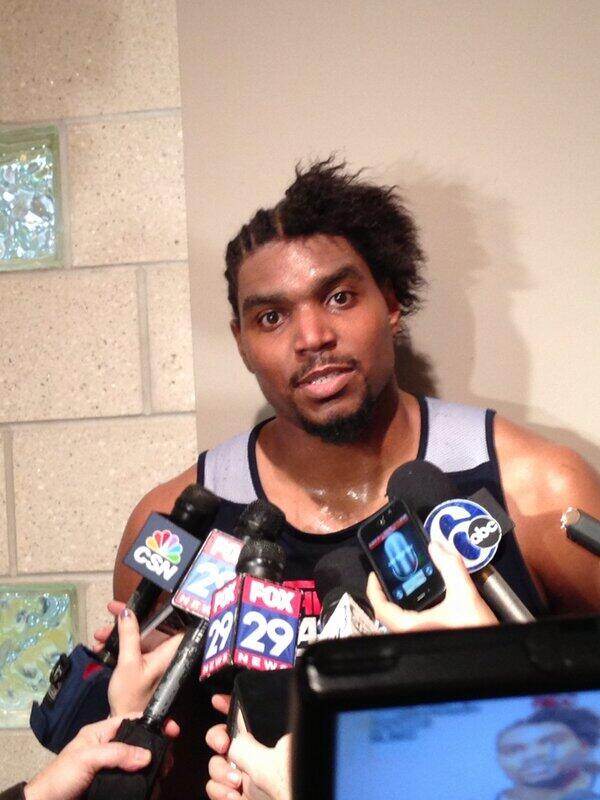 After being traded to the Philadelphia 76ers and not playing all season due to knee problems, Andrew Bynum is now a free agent. Bynum is also reportedly not willing to work out for teams, yet the Cleveland Cavaliers, Atlanta Hawks and Dallas Mavericks are still showing interest in him.
The Cavaliers have already offered Bynum $24 million and he will meet with both the Hawks and Mavericks this week, as early as today. However, with Bynum's seemingly uncaring attitude, is he worth it?
Last year, the 76ers acquired Bynum as part of a four-team trade, which included the Sixers former shooting guard Andre Iguodala moving to the Denver Nuggets. This deal backfired on Philadelphia when Bynum never played in a single game during the season.
The reason was because of his left knee injury, which led to surgery, ending his season. However, Bynum disregarded the rehabilitating knee and went bowling, injuring his right knee.
Although Bynum said that bowling was no more strenuous than what he does in rehab, most athletes alike know that they are supposed to be very careful what they do to ensure that they heal and rehab quickly and effectively. Yet, he did not take those preventative measures.
Bynum also had problems while being with the Lakers organization. During some of his time there, he worked out with Lakers legend Kareem Abdul-Jabbar. This was going well until Bynum felt he learned all he needed to learn from Abdul-Jabbar.
Abdul-Jabbar is a little before my time, but I do know that he is one of the greatest Lakers of all time.
He has worked with many players in the NBA as well as WNBA rookie Brittney Griner to help improve their game. Bynum as young as he is but feeling that he had outgrown an NBA great like Abdul-Jabbar speaks volumes about him as a person.
Bynum also had behavior problems on and off the court while with the Lakers. One of the most remembered on-court "temper tantrums" that he had was a bad foul on JJ Barea against the Dallas Mavericks during the 2011 playoffs. (Note: He was suspended five games for this but did later apologize).
Despite all of this, Bynum does have a dominant presence and is a good center when he wants to play. During the 2011-2012 season, Bynum averaged 18.7 points, 11.8 rebounds and 1.9 blocks.
However, do the pros outweigh the cons? How well will Bynum do on whatever team he decides to go to? And will he even play this season? Only time will tell.